Long time, no talk. I know. I've had a good reason though. Lots of really good reasons, actually.
Reason # 1:
The great tomato canning of 2010
. After we made the three recipes there, we went on to purchase more tomatoes and do even more canning. We have more tomato soup than we know what to do with!
Reason #2: I was completely out of energy! After the great canning experiment, lots and lots of leftovers, an extremely short work week, and preparing to go out of town, I was worn out.
Reason #3: We went out of town for a family wedding. Klark was the best man; and though he wasn't thrilled about the color guava, he wore it quite well. My gorgeous hubby. Congratulations to Kory and Nixi.
Reason #4: We were in Wisconsin and eating lots of wonderful fried food to include large cheeseburgers, fish fry fish, cheese curds and more. And it was so good, and so not healthy most of the time.
Reason #5: We weren't cooking, and didn't bring computers!!!
Fast forward to last night. 7:30. Just home with two apathetic cats and a very excited dog. Very tired and very hungry.
Cucumber Tomato Salad was the easiest, healthiest, fastest, and therefore best decision.
(Printable Recipe)
2 tomatoes
1 cucumber
2 tbsp olive oil
2 tbsp balsamic vinagrette
1 tbsp white wine vinegar
1 tbsp red wine
Whisk together the liquid ingredients and stir in diced tomatoes and cucumber. Voila! Dinner. Really tasty and fresh... and oh! so easy.
We also cooked some pasta, which I took for lunch today and used leftover salad as a sauce.
I highly recommend for those nights when time is short, hunger is high, and veggies sound good.
It doesn't have the same ooey gooey delicious flavor of a cheese curd, but I think, in technical terms, it's about 600,000 times healthier for you and your arteries.
I promise to get back to cooking soon, with more tasty recipes to pass along to you and to try.
This post is being linked to
Foodie Friday on Designs by Gollu
m
and
Inspiration Friday at Southern in my Heart
as well as my very own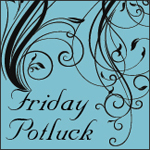 Friday Potluck
Fabulous Food Friday!