It's that time again!
Friday Potluck Party!!!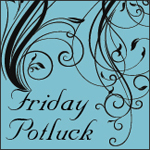 Please join the party by entering your favorite post (from your blog) from the past week -- arts & crafts, photography, ideas and, of course, recipes are all welcome.
I can't wait to see your posts.
Also, at this time, I want to give my new blog friend Michelle @
Fit Foodista
a shout out. Over the last few weeks, we've become friends and she's been posting dedicated blog posts to my Friday Potlucks. Please please please be sure to check out her blog (as well as blogs from the other potluckers!)
This week I'm bringing Heavenly Guacamole to the potluck. One of my favorite dishes - very tasty, very easy, and... very tasty. Wait, I already said that. I say that a lot. Tasty. Tasty. Tasty.
Enough with the broken record. It's a favorite at parties and at home.
Its also made from all fresh ingredients and is pretty darned good for you with no preservatives. Until you add the chips or the burger -- whatever you plan to eat with it.
I've made this into a small batch, but you can easily make much larger batches.
2 avocados (set pits aside)
1 tomato
1 green onion
3-4 stems cilantro
1/2 jalapeno
1 clove garlic
1 tbsp lime juice (or lemon juice)
Dice all solid ingredients and mash together. Mash less if you want a less chunky guac. I like it chunky because I like to see what I'm eating. Add the lime juice to keep from browning. I like to place the pits in also to keep from browning and to add visual interest.
Eat! Serve with tortilla chips. (Or add to a burger, or many other uses.) If you prefer a little less onion or garlic, feel free to leave either out; on the flip side, if you prefer more, then by all means...!
Now it's time to party! Join the potluck by entering a favorite post from your blog this week.
Instructions for entering are below:
1. Enter your post using the link to enter here below.
This post must be published on your blog before you join the potluck.
2. Link back to this blog,
EKat's Kitchen
using the button on the right of the page or a link.

3. Visit your fellow potluckers' pages and leave them a comment.

4. Leave me a comment and let me know what you think about my potluck party.
Party on!
Also, in addition to my Friday Potluck, this week I'm linking to these parties:
Foodie Friday at Designs by Gollum
The Grocery Cart Challenge
No Whine Wednesday
---
This linky list is now closed.