Friday Potluck time again!!! :)
I very much love seeing everyone's posts and exploring all of your blogs and recipes! Can't wait to see what you all bring to the party this week!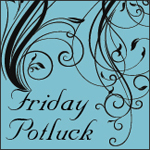 Also, thank you kindly to Alex @ A Moderate Life for letting me know that my Twitter button was down. It's back up and working now, so
follow
away! :)
This week, I'm bringing a Portabella Alfredo Pasta dish. Great as a side and DEE-LISH-US!
Yum! I've been thinking about this delicious flavor combination ALL day. I love the smoky and creamy combination the mushrooms and the cheese make, as well as the hint of garlic. Inspired in part by the Olive Garden's creamy portabella sauce (which I've been dreaming about since I first tried), this recipe makes no real attempt to be especially healthy, but it is delicious -- and I love it.
Delicious Portabella Alfredo
2 portabella caps, roughly chopped
1 tsp minced garlic
1/4 cup white wine (I used Chenin Blanc)
4 oz prepared Alfredo sauce
1 packet of McCormick's alfredo mix
1 cup milk
3 tbsp butter
1/2 cup freshly grated parmesan
1/2 cup freshly grated white cheddar
1 16 oz package pasta
salt and pepper to taste
In a large pasta pan, boil water, and prepare pasta according to package directions. Set drained pasta aside.
Place portabella pieces, garlic, and wine in medium sauce pan and cook on low until the mushrooms start to give up their liquid. Add prepared Alfredo until mixed well with the wine and mushroom "juice". Next add the sauce packet, the milk, and the butter; mix together well. Add cheeses and bring to a bubble. Once thickened, remove from heat and pour over the pasta.
Serve and enjoy!
Although normally I would make my own alfredo sauce using the recipe of the fabulous Betty Crocker, I'm in the get rid of as many "extras" as possible mode. We had some leftover prepared alfredo from making
Jalapeno Artichoke Spinach Dip
, so I used that and the sauce packet. In part to clean out the fridge, in part to simply use them up, and, in part because I was tired, and they made my life easier!
If making your own alfredo, consider making a double batch of Betty Crocker's recipe.
I'd be very curious to try baking this, with a topping of additional cheddar or parmesan to make the top crunchy, but tonight, the hunger pangs sank in and YUM!!!
I strongly encourage everyone to try!
In addition to my own Friday Potluck, this week I'm linking to
---
This linky list is now closed.