Tomorrow is Friday! You know what that means!! Potluck time!!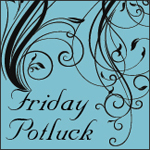 I've been seeing all sorts of incredible soups and fall recipes in the blogosphere and have decided it's my time to make soups. Now that it's getting chilly at night (and in preparation for Alaska), 'tis the season for soup. MMMMMMMM.
I actually wanted to make a crock pot potato cheddar soup, in part because my lovely friend Shaye has requested crock pot recipes, but I didn't plan ahead, and ran out of time to do a crock pot recipe. Internet search, here we come!
I found a fantastic recipe on All Recipes for
Potato and Cheddar Soup
, and decided to try my hand... and my own substitutions and additions. So if you want to make the original recipe, which includes ham, please click the link above. If you want a vegetarian soup, or just want to see how I changed that recipe, read on!
My version was tasty before it had blended and the apple flavor really was able to come through, so you can imagine how amazing the flavors were after it finished thickening!
Potato Apple Cheddar Soup
3 cups water
2.5 cups peeled and cubed potatoes
3 tablespoons melted butter
1 tablespoon onion powder
3 tablespoons all-purpose flour
salt and pepper to taste
3 cups milk
1/2 teaspoon white sugar
2 cups shredded Cheddar cheese
1 tablespoon celery salt
1 granny smith apple cubed
Boil the water and add the potatoes. Cook until soft. Drain, reserving a cup of liquid. Add butter, onion powder, flour, salt and pepper. Mix together well. Add milk, sugar, cheese, celery salt and apple. Bring to boil and simmer for 30 minutes.
Stir in additional flour as needed to thicken to desired thickness.
If needed, use an immersion blender or a hand mixer to puree the remaining potato and apple cubes. Serve, garnish with a whole wheat bread. Salt and pepper to taste.
Enjoy!!
In addition to my own Friday Potluck, I'm linking this post to
---
This linky list is now closed.