I love pot roast. I didn't know that I loved it until last year when I had some in an au jus gravy at a friend's house. Yummy pot roast! My friend Heather taught me just how easy it can be to cook pot roast, and she also gave me an undying love for slow cookers.
I've since tried a few different recipes for a slow cooker pot roast stew, and this is the latest, and greatest. Though I'm not a big fan of using pre-made sauce packets because of the extra salts and preservatives, I do need to use up what I have, and they make it so gosh-darn easy.

So after a long day at work and delivering dinner to K who was working a 24-hour shift, I got home exhausted at 9:30 and realized I STILL had to get the roast ready for cooking the next day. Fortunately, I'd remembered to take the roast from the freezer the evening prior and it was all thawed. About 15 minutes later I was in bed and well on my way to snoozing.
Have I mentioned that I LOVE my slow cooker. Thank you to K's mom, she's a really awesome mother-in-law (are you reading, K's Mom?) who gave me the slow cooker for Christmas last year. It's from Hamilton Beach and has not one, not two, but three bowls of different sizes to choose from.
I know you're itching to see all the yummy ingredients in this recipe, so without further ado, I give you (in a deep announcer voice)

SLOW COOKER POT ROAST!


(with veggies and a red wine beef broth)
1 McCormick Seasoning slow cooker pot roast packet with the amount of water it calls for
32 oz low-sodium beef broth
1/2 cup red wine (or more if you like)
3 large carrots, sliced
6-8 small red potatoes, cubed
3 large celery stalks, sliced
1 medium onion, sliced
1 tablespoon onion powder
1 tablespoon cumin
1 tablespoon celery salt
1 tablespoon garlic powder
2 teaspoons gumbo file' powder (a very random, hmmm, this will be good, last minute addition)
1 4lb roast, with as much fat trimmed as possible
Place liquids and spices in a 6 quart slow cooker. Mix together well. Add the roast, followed by the veggies, so that the veggies are stacked around the roast. The roast and veggies should be mostly covered by the liquids. If not, add more liquid of your choosing; I will almost always choose wine because I like it a lot it adds such great flavor to the red meat.
Set the slow cooker on low and cook for 8-9 hours (or on high for 4-5). If like me, you set the slow cooker in the morning before you leave work and get home more than 9 hours later, that's fine. The longer the meat cooks and simmers in the broth, the more tender it will be. Meat should fall apart easily.
Serve in bowls so that each bowl receives a few chunks of meat and lots of broth and veggies. I completely forgot to make biscuits and K and I were starving so we used some partially stale kaiser rolls, which totally did the trick. BUT, I recommend making fresh biscuits to serve with and soak up the broth, as they seem to really enhance the flavor.
Enjoy!
Also, as it's already almost Friday again, so you know what that means!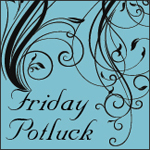 The rules are so simple, it's almost like there are no rules --
Your blog post must be published before you link up; and you must link to that post (not your general blog address).
In your post, use either a link or the code above to link up to Friday Potluck.
Have fun! Check out some of your fellow potluckers' entries; maybe you'll find some new inspiration or make a new friend or two!
And, finally, please drop me a comment to let me know that you've posted, and tell me what you think!

I'm also linking this up to the following blog parties
---
This linky list is now closed.