Wow! Two months of Friday Potlucks! This is awesome!
40 of you entered some fantastic posts last week! I'm so proud!
Though Saturday Sevens may continue to happen, what I'd really like to start doing each week is picking a few posts from the previous week's Friday Potluck that I truly loved, was inspired by, or found spectacularly creative. This is gonna be hard, as I love visiting everyone's blog who joins in and seeing all of the phenomenal cooking you've all done!
Here goes!
by Brenda
@ Brenda's Canadian Kitchen
Check out this great take on chicken alfredo. So creative, and, so... YUM!
by Michele
@ FitFoodista
I love pasta, seafood, and cajun spices. This really piques my interest and my taste buds!
by Tina
@ MOM'S CRAZY COOKING
What a great way to make a healthier Halloween-time snack! Yum... chocolate!
by Donna
@ My Tasty Journey
I love the addition of maple to this salad! How utterly fantastic... and flavorful! Plus, I love her tablecloth!
by Elsa
@ Elsa's Cooking Diary
I love Middle Eastern spices and flavors, and this introduces so many delicious tastes. I really want to try!
Now onto Friday Potluck!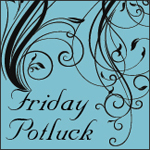 The Rules are SIMPLE!
1. Add the button above or a link back to this post/my blog in your own fabulous blog post.
2. Join the Party!!
3. Leave me a note to let me know you've entered.
4. Visit some of your fellow potluckers' posts to get inspired!
Most of all, HAVE FUN!
As always, I can't wait to see what you post!
---
This linky list is now closed.