As we in the US prepare for the upcoming Thanksgiving holiday, I certainly hope that I'm not the only one still thinking -- OOOOOH I could make that too!! This year it's just going to be hubby and I, and it will be my first Thanksgiving to cook my very own dinner — I cannot wait! :)
K & I scored a 15 pound bird for $6. at Safeway earlier this month and have been busy planning how to cook it and all of the sides... 15 pounds of turkey. Yikes! We're planning to take a big giant plate of holiday fixins to the soldiers in K's company who have to work that day... but we're still going to have lots of extras. MMMM leftovers!!!
Before I go into the details of my crock pot apple sauce, I want to remind you to
enter my CSN giveaway!
Win $35. to spend at CSN Stores!!! :)
But, this post is on a side or a healthier dessert you can easily make. It's easy, and you can let it cook away all day in the crock pot while your oven's tied up! It makes your house smell AAAAAHHHHmazing too.
This recipe, you may or may not remember, was one of my featured posts in
Saturday Sevens
on October 16. I was impressed with Heather Lynne's
Crock-Pot Applesauce
and decided that I must try it for myself.
I absolutely adore this recipe... and that I can leave it simmering all day, giving the house a wonderful apple-cinnamon scent. When we walked back into the house, I couldn't believe the fantastic aromas emanating from the slow cooker.
I made one and a half of Heather Lynne's recipe, but otherwise didn't make significant changes to it.
Add caption
I used three apple varieties -- granny smith, red delicious, and a beautiful red/gold apple whose name I cannot remember.
Aren't they pretty?
I do not have an apple peeler or corer, and cored and peeled by hand. If you are like me and are a "traditionalist" either by intent or accident, I implore you to remember that knives go very easily through apples whose skins have been removed. Though no blood was drawn, I certainly felt the sharp point of the knife a few times.
I'm not very good at this whole peeling thing. There were lots of short and stubby peels.
These were my three success stories. Ok, two and a half success stories. But aren't the top two beautiful?
9 large apples, skinned, cored, and cut into 8 pieces
2 1/2 lemons, juiced
1.5 teaspoons cinnamon
1.5 teaspoons vanilla
4.5 tablespoons brown sugar
1 1/3 cup water
Mix all ingredients together in a four quart slow cooker. Stir together. Cook on low for 4-6 hours.
After you return home your 4-6 hours are up, this is what you'll see. Mash together (should be a cinch) into a lovely red sauce. Add another tablespoon of brown sugar and a dash of cinnamon, stir together and cook for another 20 minutes or so.
Serve. I garnished with apple slices... thought it might be over doing it but, it turned out perfectly!! A definite keeper!
I'm linking this up to my own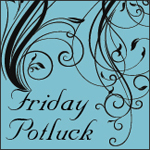 Saturday's Party @ Recipes of a Cheapskate
Potluck Sunday @ Mommy's Kitchen