Welcome to Friday Potluck #12!!
Thanks for joining this week! As always, I really look forward to seeing what you all bring to the potluck! :)
Last week's picks:
This looked so good that we made a variation of it with leftover turkey and curry powder -- I'll be posting later this week -- great inspirations from Christy's blog, as always!
Cauliflower Cheese w/ Bacon & Broccoli
by April @ 21st Century Housewife
I absolutely love pasta, and I think that this dish offers some healthy flavors, and awesome taste!
Cherry Almond Chocolate Clusters
by Chaya @ Chaya's Comfy Cook Blog
Chocolate... cherries...almonds... need I say anything more?
Strawberry Vinagrette
by Miriam @ Meatless Meals for Meat Eaters
I love salads, and the first thing I thought when I saw this recipe was YUM!
Turkey & Bacon Carbonara
by Dinell @ Mommy D's Kitchen
Dinell has innovated one of my favorite leftover recipes from the week. According to my husband, everything is better with bacon. I don't know that I disagree, but I'm sure I need to do some more testing! :) This recipe offers the perfect opportunity.
Now it's time for a party!!! :)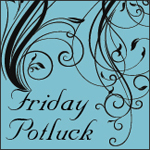 The Rules:
1. Add the button above or a link back to this post/my blog in your own fabulous blog post.
2. Join the Party!!
3. Leave me a note to let me know you've entered.
4. Visit some of your fellow potluckers' posts to get inspired!
*note -- if you forget to link back or add a button, you'll receive a gentle friendly reminder to add it in :)
AND, if you want to join in
Friday-Potluck Daily
, please let me know your Twitter handle. I'll follow you (you can follow me @ekatskitchen). To subscribe to the paper
click here
and then click subscribe!
---
This linky list is now closed.