I've seen lots of awesome pomegranate recipes as my favorite fruit appears for the season. I love pomegranates. I don't love destroying my clothes by eating them, but I'm willing to make a few sacrifices.
I've had three pomegranates in the fridge for a few weeks, and had a craving to do something with them.
Similarly, I had a craving to use my new food processor.
If you hadn't already read the title, I'm sure you could probably read where this was going. If not, well, I made some lovely
pomegranate juice
. No additional anything added.
First, seed the pomegranates.
Want to see them again? They're so lovely. And so tasty.
Toss the seeds (juice pouches) into a food processor.
I love my food processor. It makes my day.
Process until smooth.
Press through a cheesecloth or a strainer.
You get....
Voila!
About half a glass of juice.
Half a glass!!!?!?!
After all that work?
It was really good juice. But now I have a solid understanding for why pomegranate juice is so spendy.
See how delicious and frothy it is?
I had to make it last.
So I added Sprite to turn it into two servings.
Enjoy my
Pomegranate Juice
I'm linking this up with my Friday Potluck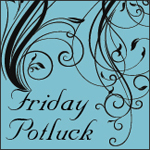 as well as with