Friday Potluck #19!
Thank you all for your lovely four minutes wishes! I am pleased to announce that we're now up to 4:34 a day -- over 30 minutes more a week! YAHOO! I'm a happy girl -- and definitely notice the difference as I make the 45-minute drive every morning from my parents' house to my job... only a matter of counting down the days until we're in the new house (I hope!!) and then you can have pictures. And then the cooking starts!!! One of my first projects will be a hummus, which I've never made before, so I welcome your experiences! :)
Last week's favorites
Superhero Cupcakes
by SugarSwings
FUN FUN FUN! I love sugarswing's fun idea - perfect for superheroes of all ages! Need I say more? I'm a sucker for cupcakes!
Red Beans & Rice
by Louanne @ Louanne's Kitchen
I love red beans, and my dad just made some -- I'll have to make this soon! :)
Chicken with Wild Mushroom Cream Sauce over Pasta
by Katerina @ Culinary Flavors
I just love mushrooms and think this looks amazing. I always love checking out Katerina's recipes and her blog!
Pina Colada Breakfast Cupcakes
by Joseph's Grainery
Of course the words "pina" and "colada" caught my eye... and I fell in love with more cupcakes. I've got to learn to bake one day! And soon!
Sweet Potato Tamale Dessert
by Miz Helen @ Miz Helen's Country Cottage
MMMMexican food... and sweet potatoes. and Dessert? Yum!!!
On to this week's potluck!!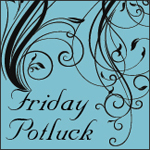 The Rules:

1. Add the button above or a link back to this post/my blog in your own fabulous blog post.
2. Join the Party!!
3. Leave me a note to let me know you've entered.
4. Visit some of your fellow potluckers' posts to get inspired!

*note -- if you forget to link back or add a button, you'll receive a gentle friendly reminder to add it in :)
AND, if you want to join in
Friday-Potluck Daily
, please let me know your Twitter handle. I'll follow you (you can follow me @ekatskitchen). To subscribe to the paper
click here
and then click subscribe!
---
This linky list is now closed.