Howdy fellow friends.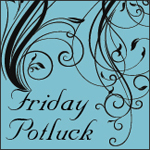 and my

100th POST!!!!
Holy moley, it hardly seems possible. Then again, it does! Five months of Friday Potlucks.
Thank you to everyone for reading (and enjoying I hope) and for participating in my weekly potlucks! I love seeing all of your recipe postings and looking through them each week to select a few to highlight, though it's always a tough decision. My 100th post snuck up on me this week, and to celebrate I'm doing a lovely Friday Potluck!!!
EKat's Kitchen, where traditions are celebrated, and Friday Potlucks are serious traditions. :) HA!
In all seriousness, I will be doing a
GIVEAWAY
in the coming weeks, so please stay tuned! I'll give you notice, and will try to come up with some fun entries for you.
Without further ado, I give you this week's highlights:
Sauteed Crab with Tea Noodles
by Lani @ Food: Cooking and Capturing
I admit I was first captivated by tea noodles, and I would love to know more about them. But I really love the simplicity of Lani's dish. Looks wonderful - and a great lunch!
Peanut Butter Shimp Tamales
by Donna @ My Tasty Journey
MMM... inspired by one of my picks a few weeks ago
Miz Helen's Sweet Potato Tamale Dessert
, I love the addition of the peanut sauce and savory shrimp.... mmmm.
Baked Italian Chicken Wings
by Claudia @ What's Cookin' Italian Style
I love baked wings, and Claudia's look sooo good! The parmesan-garlic-butter sauce looks awesome... as do Claudia's many dipping sauces.
Coq au Riesling
by Christina @ C+C Marriage Factory
I love Coq au Vin, and think that this white wine sauce version looks great as well. Definitely a keeper.
On to the Potluck!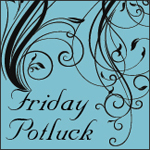 The rules:
1. Please link directly to your recipe (not your main blog).
2. Please only one recipe per blog.
3. Be sure, in the linked blog post, to link back here to Friday Potluck @ EKat's Kitchen using the button above or text.
4. Have fun, do some visiting and enjoy!
---
This linky list is now closed.