Happy Birthday to my mother!
Also, Happy Friday Potluck to all of you!
I am pulling this together quickly and deeply apologize for not being able to post favorites from last week. I'll do a double batch next week! :)
We are not yet in our house, as all of the WILD weather in Texas snarled our Alaska closing (the seller is there and is snowbound). Go Figure. Meanwhile this week was in the 30s and 40s up here until today, when it snowed. (awwww)
Wish those Texans and all others freezing their butts off warm thoughts, which will help us to close! I will post pics of the house as soon as we close. Am hoping for a Friday Potluck, Friday Closing. Wish us luck!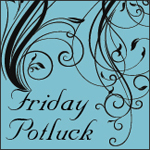 The rules:
1. Please link directly to your recipe (not your main blog).
2. Please only one recipe per blog.
3. Be sure, in the linked blog post, to link back here to Friday Potluck @ EKat's Kitchen using the button above or text.
4. Have fun, do some visiting and enjoy!
Friday Potluck is open for linking up Thursdays at 10pm AKST (midnight, Mountain Time) until Mondays, midnight Alaska time)