Yes!!! Ladies and gentlemen,
we are in our new house!
I have pictures on my camera, of the "before" but I've been so busy running around and prepping for working on the house before the furniture arrives, that I haven't had time to blog or post them anywhere... coming soon! Plus, we only just got internet in the house.
There are some great advantages to buying a house that's been vacant for a while, but also some major disadvantages... a few stinky rooms, really stinky sinks and tubs, and REALLY stinky refrigerator.
,
Suffice it to say that I haven't bought any perishables that need to be refrigerated. Even with multiple containers of baking soda, whenever the fridge is opened I'm ready nearby, holding my breath and prepared with Glade's Hawaiian Sunset air freshener. Hey, don't knock it.
Our handyman told me to put on my "big girl britches" and bleach the hell out of it. I respectfully told him that K could put on his "big boy britches" and do it, and that my vote was to buy a new fridge. Guess who won!
Me!!
K is on his way to pick up our new fridge now. It's really win-win though, because after K (aka "Big boy britches") cleans the fridge, he gets to use it for beer and meat... a man's true paradise. Soon, along with my "before" and "after" photos are posted, I'll show you my GORGEOUS new stainless french door fridge with a bottom freezer drawer... that we got for....
....
....
....
....
$1095!!!!
Alaskan price. Brand spanking new. On clearance. With Warranty. SCORE!!!!! That last stop was SO worth it.
Grocery store, here we come! We get our furniture next week, so this weekend we're painting up a storm. With that, as I listen to the cats play "Zoomies" and skitter across the hardwood floors, I am VERY VERY much looking forward to seeing what you bring to Friday Potluck this week. I need motivation, my friends. As if my new fridge weren't enough!! :)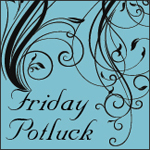 You know the drill!
The rules:
1. Please link directly to your recipe (not your main blog).
2. Please only one recipe per blog.
3. Be sure, in the linked blog post, to link back here to Friday Potluck @ EKat's Kitchen using the button above or text.
4. Have fun, do some visiting and enjoy!
Friday Potluck is open for linking up Thursdays at 10pm AKST (midnight, Mountain Time) until Mondays, midnight Alaska time)
---
This linky list is now closed.