Friday Potluck #23
I totally spaced on Friday Potluck last week! Call it a blond episode... even though this past year, I've become a confirmed brunette.
Call it being highly distracted.
Anyway, earlier this week I posted
a mini-tour of our new house
. It shows you what darling hubby and I have been up to. A lot of it is what darling hubby has been up to and I have "supervised"... while unpacking countless amounts of boxes... I swear that at least a third of the weight of our HHG was packing paper. Either way...Check it out. I'm proud of our accomplishments; and if I look at the pretty pictures, it makes it easier to ignore the giant stacks of boxes. Not that there are any... errr... right.
My goal this weekend is to dig through ALL of the boxes! :) And, at least get the closets packed away along with the office all set up. This girl will be working from home part time, and I have to totally love my office! I promise pictures soon. I can't wait to be able to run laundry during the day and start dinners. Not that I am excited about doing laundry, because it's my very least favorite chore! But I am excited about working in my jammies a few days a week!
OF EXTREME IMPORTANCE
,
Do YOU want to win $35 to spend at CSN Stores? I'll be giving away a gift code... in honor of 100 posts (though I'm well over that now) and celebrating the move into my new house! Stay tuned for my giveaway next week, which will be posted on Tuesday and will run for two weeks, with the winner announced at Friday Potluck on the 18th! Get ready to rumble! :)
And now on to the Friday Potluck!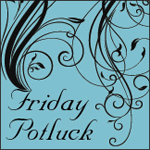 You know the drill!
The rules:
1. Please link directly to your recipe (not your main blog).
2. Please only one recipe per blog.
3. Be sure, in the linked blog post, to link back here to Friday Potluck @ EKat's Kitchen using the button above or text.
4. Have fun, do some visiting and enjoy!
Friday Potluck is open for linking up Thursdays at 10pm Alaska time until Mondays at midnight!
Bring on the recipes, I can't wait to check them all out!
---
This linky list is now closed.