Welcome to FRIDAY POTLUCK!!!
There haven't been many posts this week, as in NO posts this week. This former Alaska girl, newly transplanted back home, encountered a nasty Alaska-sized cold this week and couldn't measure up. That's it, I admitted at least a temporary defeat to a cold.
What did this mean? The two years spent Outside...
(Here's a little lesson in Alaska vernacular: Outside means anywhere Outside of Alaska... could be the Lower 48, a different country, or a different continent. Consider Outside to be your word of the day.)
The two years Outside (in Colorado) have made me into a winter time wimp. I spent the last two winters shaking in my fashionable boots that the temperature might dip into the 20s, whereas now I can barely contain myself that next week we might get into the 30s on a regular basis. It's a sick and twisted mentality and the irony is NOT lost on me. I find myself pining away for 60 degree weather with a fervor that I had, until this point, thought impossible. Whoops.
Once again, I'm behind in reading everyone's blogs, so I very much look forward to what you have to post this week. I also apologize in advance for the poor quality of any photos I post of the bounty of amazing veggie-inspired dishes this weekend. I cannot locate my camera battery charger... and need to!
Before we carry on with Friday Potluck, a few important announcments:
CSN Giveaway - ends Monday at midnight AK time. Get your extra entries in now. Click here to enter!
And of course, what would Friday Potluck be without the highlights of last week's entries!
Mini Rotelle Pasta Muffins
by Sunshine & Smile
If you know anything about me, you know that I adore pasta... I love the creative use of pasta in these muffins!
Ritz Peanut Butter S'mores
by Miranda @ Mangoes & Chutney
Just look at the picture... doesn't this bring out the little kid at campfire -- and the grown up little kid in all of us. Miranda's gorgeous pictures and fun recipe make this post a real winner!
Balsamic Mustard, Whiskey Mustard, Loaded Green Apple Mustard
by Dan @ The Haggis and the Herring
I love these posts of Dan's! Amazing combinations... and I love "Make Your Own" style condiments and spices... MMMMMMMMMM.
And with that, on to Friday Potluck!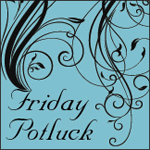 The rules - they're simple, so please follow them!
1. Please link directly to your recipe (not your main blog).
2. Please only one recipe per blog.
3. Be sure, in the linked blog post, to link back here to Friday Potluck @ EKat's Kitchen using the button above or text.
4. Have fun, do some visiting and enjoy!
Friday Potluck is open for linking up Thursdays at 10pm Alaska time until Sundays at midnight!
---
This linky list is now closed.