Friday Potluck!
While you folks are potlucking, I'll be catching up with some long lost friends! Jessica, my roomie from Costa Rica, who I haven't seen in nearly 8 years, and Janice - a former co-worker of mine. Then it's work from the East Coast! I can't wait!
Congratulations to Wanderer of
Woodwife's Journal,
who won the CSN Giveaway! She has some fantastic recipes too and I urge you to check out her blog!
Highlights from last week:
http://www.aroundmyfamilytable.com/2011/03/st-paddys-mint-chocolate-chocolate-chip-pizza/
Who wouldn't fall in love with a mint chocolate pizza?
Loaded Baked Potato Dip
by
http://hezzi-dsbooksandcooks.blogspot.com/2011/03/loaded-baked-potato-dip.html
This is appealing to my tastebuds, with the bacon, cheese, fries, and potatoes! MMMM.
http://bellavita-bellasblog.blogspot.com/2011/03/mushroom-fontina-asiago-tart.html
Droolworthy!!! MMMM... I think I'm in love with this dish as it has so many of my favorites! What a tasty treat!
And on to FRIDAY POTLUCK!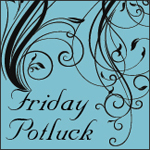 The rules - they're simple, so please follow them!
1. Please link directly to your recipe (not your main blog).
2. Please
only one recipe per blog
.
3. Be sure, in the linked blog post, to link back here to Friday Potluck @ EKat's Kitchen using the button above or text.
4. Have fun, do some visiting and enjoy!
Friday Potluck is open for linking up Thursdays at 10pm Alaska time until Sundays at midnight!
---
This linky list is now closed.