Welcome to Friday Potluck #29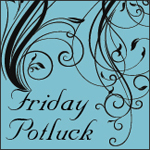 1. Please link directly to your recipe (not your main blog).
2. Please <b><u>only one recipe</u></b> per blog.
3. Be sure, in the linked blog post, to link back here to Friday Potluck @ EKat's Kitchen using the button above or text.
4. Have fun, do some visiting and enjoy!
---
This linky list is now closed.
What is a blog hop?
Get the code here...