Friday Potluck #30!
#30!!!! Wow - how time flies! Thanks, everyone for your participation! Thanks also for sticking with me last week with the challenges I've been having with Blogger... the way I always used to post the FP linky no longer seems to post correctly, so this week I'm trying a new plan of attack. I bring you, Friday Potluck!
As always, thanks for bringing your post... I love looking to see what everyone brings!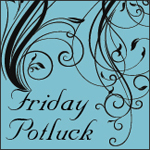 1. Please link directly to your recipe (not your main blog).
2. Please
only one recipe
per blog.
3. Be sure, in the linked blog post, to link back here to Friday Potluck @ EKat's Kitchen using the button above or text.
4. Have fun, do some visiting and enjoy!
---
This linky list is now closed.