Sorry for the delay in posting! As many of you know, Blogger has been down.
It makes me feel less bad about being lazy and not posting the DIY pizzas we had at my birthday bash party last weekend. Now I have more time!
In the meantime, I give you Friday Potluck. Because of the delay in posting, I'm going to give you an extra day to bring recipes... you have until Monday night at midnight, AK time! WHEEEEE!!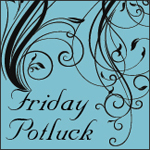 As always, there are just a few rules, but they're super duper simple!
1. Please link directly to your recipe (not your main blog).
2. Please
only one recipe
per blog each week.
3. Be sure, in the linked blog post, to link back here to Friday Potluck @ EKat's Kitchen using the button above or text.
4. Have fun, do some visiting and enjoy!
---
This linky list is now closed.