What a week! Life keeps trucking away and I never seem to be finding the time to post about the food we've been cooking.
I had a fantastic build your own pizza party a few weeks ago (YUM) and made fantastic stuffed peppers and caprese bites. Up soon is a tasty spicy shrimp over pineapple salsa, a splendid pot roast, and I believe I'll be making a leek and potato soup soon as well. What else? Time will tell, and you'll get some fabulous posts!
Still, this week I'm glad to be bringing you some Adobo Lime Chicken Tacos. How tasty were they? THIS TASTY! MMMM.
I'd also like to mention a great new monthly blog hop that my bloggy buddy Anne has put together at her blog -
Quick Cheap Easy Healthy
- the Eat Local Eat Fresh Blog Hop! The basic idea here is to write a post about a local food source that you love, be it a farm, or market, or restaurant, cafe, or even a friend who bakes, etc. As long as it's local and fresh, it goes! Be sure to stop by Anne's blog.
I'm excited to bring you another Friday Potluck, and I am so glad to still have a blog this week after last week's blogger outage. Thanks to you all for really rallying! 62 posts on a day that many of us found it difficult to even log in! Thanks... as always for your fantastic support and participation.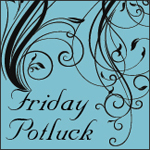 As always, there are just a few rules, but they're super duper simple!
1. Please link directly to your recipe (not your main blog).
2. Please only one recipe per blog each week.
3. Be sure, in the linked blog post, to link back here to Friday Potluck @ EKat's Kitchen using the button above or text.
4. Have fun, do some visiting and enjoy!
(Friday Potluck is open Thursday night until Sunday night)
---
This linky list is now closed.