Memorial Day is an American holiday that, at least historically, signifies remembrance of soldiers who have died in the line of duty, to remember the sacrifices they've made and to ensure that they'll never be forgotten. With my personal connection to the U.S. military, this holiday means more to me each year, but I also feel that we should remember all of those who've gone before us, in every country and culture. I wish you joy, peace and love during this holiday of remembrance.
I also wish those of us who have a long weekend, three (or more!) days full of family, friendship, and celebration... with good food and great times! Maybe you'll find some great recipes to take to those barbecues and parties right here, in the pages of EKat's Kitchen or at Friday Potluck.
Following are some of my favorite ideas for party food that I've had the pleasure of making (successfully) over the last few years.
Brie-Stuffed Buffalo Burgers
Buffalo Chicken Bites
"Cool Ranch" Popcorn
Grilled Baby Bok Choy
Homemade Onion Soup Mix
(for Sour Cream & Onion Dip, low sodium)
Jalapeno Artichoke Spinach Dip
Jalapeno Poppers
Smoky Baked Beans
Welcome back to Friday Potluck today!
We had a record 92 entries last week! I'm loving all of the fantastic recipes that you all have come up with and shared with bloggy land. I can't wait to see what you bring this week.
It's funny, each week, there seems to be a theme of some kind... completely unplanned and due to chance. Some weeks are "soup weeks," others are "dessert weeks," while still others are "baking" or "fresh" weeks. I always try to guess, and sometimes I'm right, while other times I'm wrong.
Just like telling people your wish before you blow out the candles, it seems as though it might jinx my prediction for this week. However, I'll hazard a guess that the theme is going to be cookout and finger food this week.
This by no means is a guideline
, just for my own personal entertainment. Time to sit back and wait... to watch and see.
Happy Potlucking.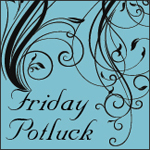 As always, there are just a few rules, but they're super duper simple!
1. Link directly to your recipe (not your main blog).
2. Only one recipe per blog each week.
3. Be sure, in the linked blog post, to link back here to Friday Potluck @ EKat's Kitchen using the button above or text.
4. Have fun, do some visiting and enjoy!
(Friday Potluck is open Thursday night until Sunday night)
---
This linky list is now closed.