Welcome to Friday Potluck!
Just a few weeks left before my trip to China. I can't believe that it's almost here! With an upcoming business trip right before my China trip, I won't be seeing much of my husband. I will however be posting Friday Potluck up until I leave, and then Heather at Girlichef will be taking over for the month of July. I'll post a reminder here, but be sure to link up during July and thank her for hosting - she's graciously agreed to take time out of her wild schedule to help out for a short period! THANKS HEATHER! :)
I haven't had much time to cook, or much variety, so you may have noticed that I haven't been posting as often here. The weather has been absolutely stunning here...for the most part, and so I've been spending a TON of time outside!!
However, this week I did post a GREAT nutritious recipe that I tried -
low carb veggie burgers with portabello mushrooms and kidney beans
. These are really healthy and very tasty... and EASY! Oh! so easy!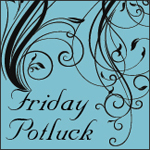 Without further ado, I give you Friday Potluck. Linky Tools has gone through a major upgrade, so I'm testing out a few new features. Please let me know of any questions... but it should be working in golden fashion!
Remember there are a few rules...
1. Link directly to your recipe (not your main blog).
2. Only one recipe per blog each week.
3. Be sure, in the linked blog post, to link back here to Friday Potluck @ EKat's Kitchen using the button above or text.
4. Have fun, do some visiting and enjoy!
Friday Potluck is open Thursday night until Sunday night.
---

This linky list is now closed.