Happy Friday Potluck!
As you begin posting, I'll be trying to catch some last minute zzz before hopping on a plane to Louisville! A new city for this girl! I can't wait!
I am looking forward to seeing what you bring. I promise to stop by as many of your dishes as my work schedule allows me, but know that I'll be running around like a crazy person for a week or so, so if I'm unable to visit, know that I'm thrilled you've joined the party!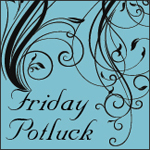 Remember there are a few rules...
1. Link directly to your recipe (not your main blog).
2. Only one recipe per blog each week.
3. Be sure, in the linked blog post, to link back here to Friday Potluck @ EKat's Kitchen using the button above or text.
4. Have fun, do some visiting and enjoy!