I have a few confessions this week:
1. It's sunny in Alaska.
2. I haven't been cooking.
3. I'm still processing everything from China and Cambodia.
As such, I give you this photo.
This is me last night, enjoying the sun, looking past my feet at the grass that was dying to be cut after so much rain and growth.
I got up and cut the grass. My feet turned green. Then I returned to my post. Sadly, there's not an after picture of said green feet. Oh well!
It's Friday Potluck time!
Inspire me - I have a fridge full of veggies that I look at with hungry eyes before I sigh and grab the broccoli florets (again) to dip in this yummy Jalapeno flavored Greek yogurt I've been finding at Costco. That pretty much sums it up!
Just a few quick and easy rules for joining the party:
1. Link directly to your recipe (not your main blog).
2.
Only one recipe per blog each week.
3. Be sure, in the linked blog post, to link back here to Friday Potluck @ EKat's Kitchen using the button above or text.
4. Have fun, do some visiting and enjoy!
Thanks!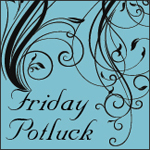 ---

This linky list is now closed.