Hey y'all!
If you read my post earlier this week, "
A tale of confessions, pet peeves and grand plans
" you'll know that all you Potluckers have my sincerest of apologies for having not yet visited your 59 entries... yet!
You may also know that I'm back... as in no more "Hasta la Vista, Baby." My kitchen is hopping again, and I'm not the only one in it!
K cooked a fab dinner this week (actually a few fab dinners) and I've blogged about it -
Ranch Style Hash
. In fact, I'm actually bringing it to the party today.
I've also had the privilege to have been invited to participate in a great cook off in promotion of a fantastic new cookbook
The Homesick Texan
.
Watch for my first post on Friday (as in sometime today) -- Pork Tacos, Dallas Gas Station Style. MMMMMM.
And now onto the Potluck Party!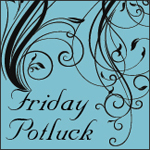 Just a few quick and easy rules for joining the party:
1. Link directly to your recipe (not your main blog).
2. Only one recipe per blog each week.
3. Be sure, in the linked blog post, to link back here to Friday Potluck @ EKat's Kitchen using the button above or text.
4. Have fun, do some visiting and enjoy!
If you want to get updates on my posts, and any promotions I'm running, please follow via Google Friend Connect (in the bar to the right).
---

This linky list is now closed.