Friday Potluck #50!
Holy cow! After 50 weeks (with two weeks skipped for holidays and other good causes), I bring you the one year anniversary of Friday Potluck!
Hard to believe that this day has already arrived! I've made several new bloggy buddies as a result of FP. Some faces have been around for most of the party; some are new, and some have come and gone. I've thoroughly enjoyed this whole year and want to thank you all for making this party the success it is. I define success by the community formed, and I'd say that we've got a pretty awesome group of people!
Thanks for being part of my community!
Hope that you'll check out posts from the
Homesick Texan Cookbook Spotlight and Cookoff
at Girlichef; my entries are:
I hope you enjoy thoroughly! Also, watch for my mango daiquiri, which is my entry to this week's Friday Potluck! Now, on to Potlucking! :)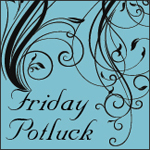 Just a few quick and easy rules for joining the party:
1. Link directly to your recipe (not your main blog).
2. Only one recipe per blog each week.
3. Be sure, in the linked blog post, to link back here to Friday Potluck @ EKat's Kitchen using the button above or text.
4. Have fun, do some visiting and enjoy!
If you want to get updates on my posts, and any promotions I'm running, please follow via Google Friend Connect (in the bar to the right).
---

This linky list is now closed.