Happy Friday!!!
This has been an incredible week! Incredible sights, incredible critters, incredible time with my hubby, family and friends... incredibly busy! If you haven't seen my post on my trip this week to
Denali National Park
, there are some amazing photos.
Temperatures are cooling off in Alaska. The leaves have nearly all turned. Termination dust is sitting atop the peaks of the Chugach Mountain Range. The crabapples are picked and I'm getting ready to make my crabapple liqueur.
I have a lovely sugar pumpkin that I need to make into something... I'm taking suggestions now!
Be forewarned, I may just bake it and freeze it for use at a later date, just like the spaghetti squash I'm stocking up on.
I'm bringing my latest and greatest creation -
BBQ Chicken Pizza
. It's so good and so easy... and I'm so in love.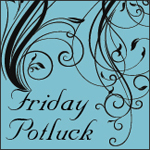 Just a few quick and easy rules for joining the party:
1. Link directly to your recipe (not your main blog).
2. Only one recipe per blog each week.
3. Be sure, in the linked blog post, to link back here to Friday Potluck @ EKat's Kitchen using the button above or text.
4. Have fun, do some visiting and enjoy!
If you want to get updates on my posts, and any promotions I'm running, please follow via Google Friend Connect (in the bar to the right).



---

This linky list is now closed.