BBQ Chicken Pizza
When Ott, A of
A Latte with Ott A
emailed me last month to invite me to participate in September's Iron Chef Challenge, I was super excited. When I learned that this month's sponsor is Red Star yeast, I was even more excited - this is finally an opportunity for me to make something bread-y... and get over my
incompetence
fear of baking.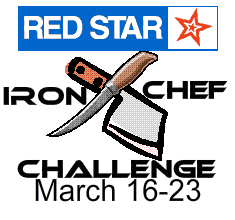 I'm proud to announce to the world that I have successfully conquered pizza dough!
(Does the word "conquering" imply success? In which case I'd have a doubly successful attempt at pizza dough. I'll take what I can get!)
We had been planning to have friends over for Labor Day weekend, so a DIY Grilled Pizza Party sounded as though it would be right up our alley. And it was SOOOOO good.
I'd first read about a DIY Grilled Pizza Party as a fun alternative to a backyard cookout over at
Gourmet Meals for Less
, from the wonderful Heather, who is now one of the lovely sisters behind
At The Picket Fence
. And a FANTASTIC party idea it was!
Ultimately though, since we used the grill for these babies, I haven't yet conquered baking... technically. :)
I took the
original recipe
and ditched it by making three variations on the dough (garlic rosemary, basil, and pizza seasoning).
Best Ever (and Easiest) Pizza Dough (Grilled)
adapted from finecooking.com
1 package (2-1/4 tsp.) active-dry Red Star yeast
1-1/2 cups very warm water (110°F)
18 oz. (4 cups) all-purpose flour; more for dusting
1-1/2 tsp. salt
2 Tbsp. olive oil
2 tsp (up to 1 Tbsp) seasoning of your choice (optional)
Mix your yeast and warm water and set aside. Pulse the flour and salt and seasoning in a food processor until mixed well, then slowly add in the water/yeast mixture, followed by the olive oil.
Continue mixing until a big giant ball forms in your food processor. Remove ball and place on lightly floured surface and divide into 6 smaller balls.
Place on cookie sheet or in baking dish and cover, allowing to double in size.
On a lightly floured surface, roll out the individual balls into thin disks; these should be ~8-10" in diameter.
To cook, warm up the grill and set to medium heat. Brush a thin layer of olive oil on one side and set on the grill; thinly coat the second side with olive oil and wait until bubbles form or until a light brown color appears (about 1-2 minutes). Then flip and cook for another 90 seconds or so... until cooked throughout.
Set aside and continue until all pizza dough disks are cooked. (I made 18... six each of the three flavors I mentioned above.) Refrigerate (keeps 3-4 days) or add pizza toppings and cook right away, by putting back on grill until cheese melts or until pizza is heated through.
Suggested toppings to include in your pizza bar:

your favorite pesto or pizza sauce
mozzarella
pepperoni
mushrooms
Canadian bacon
pineapple chunks
spinach
tomatoes
feta

shredded chicken
bbq sauce
cheddar
green onions


Most importantly, be sure to enjoy thoroughly!