A good friend sent me a note tonight, asking when Friday Potluck usually opens. I did a mental forehead smack when I realized I completely forgot to post Friday Potluck last week. As in, it didn't occur to me one teensy weensy bit for even a second.
Between traveling for work and some personal stuff going on (nothing bad!), I completely and totally forgot about it. Sorry for any headaches!!
To add insult to injury, the Linky Tools site is down, so I'm unable to post a linky party as per normal. I am, however, giving InLinkz a try. So check it out below, and link up to join the party!
Can't believe that Thanksgiving is next week. Because of the holiday, next week's Potluck will open on Wednesday afternoon.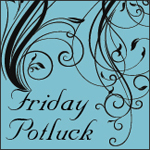 Just a few quick and easy rules for joining the party (please read them before posting)

1. Link directly to your recipe (not your main blog).
2. Only one recipe per blog each week.
3. Be sure, in the linked blog post, to link back here to Friday Potluck @ EKat's Kitchen using the button above or text.
4. Have fun, do some visiting and enjoy!
If you want to get updates on my posts, and any promotions I'm running, please follow via Google Friend Connect (in the bar to the right).
---

This linky list is now closed.