A very happy Thanksgiving to you and yours.
For those of you not in the U.S., I'm wishing you a day filled with joy and gratitude.
You may have noticed I've been a little bit absent the last couple of weeks. You may not have noticed; I was a prolific scheduler for the times when I was out of town. Suffice it to say though, that there's a lot going on in my personal life, some good, some that I'm less excited about, but I haven't had the time to devote to cooking, let alone writing about it.
With some less than exciting things coming up in my life between Thanksgiving and Christmas, I've been focusing on being positive and thankful for what I do have in my life. I've been spending time looking for quotes to help bolster a positive attitude, and in the spirit of tomorrow's holiday would like to share some with you.
"Gratitude unlocks the fullness of life. It turns what we have into enough, and more. It turns denial into acceptance, chaos to order, confusion to clarity. It can turn a meal into a feast, a house into a home, a stranger into a friend. Gratitude makes sense of our past, brings peace for today, and creates a vision for tomorrow." ~ Melody Beattie
If you have the opportunity to check out some of Melody Beattie's writings, I encourage you to do so. I love what she has to say and her attitude about just about everything. I really love this quote on gratitude because it talks about gratitude as a way of being rather than an obligation. I could sit and read it over and over and find some new application to my life every time.
"I can complain because rose bushes have thorns, or rejoice because thorn bushes have roses. It's all how you look at it." ~ J. Kenfield Morley
This is incredibly telling in my life right now; I share with new Army wives about to experience their first deployment that perception is everything. There are ways to find a positive in almost every situation, including the prospect of facing time away from loved ones. For example, my house will stay clean for the next year: I won't find random dirty socks everywhere, empty glasses on all tables, Army stuff everywhere, or have every flat surface
covered
in stuff. Of course, the price is that I don't see or talk to K every day, which would be preferable, but I have to look for the roses in the thorn bush to keep my sanity.
I have an amazing, loving husband, and though he's about to head halfway around the world, I'm very fortunate to have him in my life, and in fact, sitting across the living room from me looking handsome as ever. I'm thankful for my incredible family and friends, near and far, who make up my support and hugs network. I'm thankful for Lucy the wonder-dog, who is always so excited to see me, even if I've only gone out to the car to get another load of groceries. I'm also thankful for a roof over my head, a fantastic job, and the opportunity to live in one of the most amazing places in the world - Alaska!
What are you thankful for?
This week, it feels strange to not be cooking. My parents instructed me to bring nothing, but myself, my husband, my dog and coffee creamer to Thanksgiving this weekend. Of course, I can't come empty-handed, but it's still odd. I will be back soon with more recipes, including some great veggie recipes.
Full Circle Farm
has given me the opportunity to try out their new delivery options for a few weeks, I just got my first "Sprout" box delivered to my house tonight and am currently munching on a D'anjou pear; I can't wait to share the bounty with you.
Wishing you all a wonderful Thanksgiving weekend filled with love, gratitude and family.
Looking forward to the recipes you link up.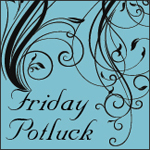 Just a few quick and easy rules for joining the party (please read them before posting)
1. Link directly to your recipe (not your main blog).
2. Only one recipe per blog each week.
3. Be sure, in the linked blog post, to link back here to Friday Potluck @ EKat's Kitchen.
4. Have fun, do some visiting and enjoy!
If you want to get updates on my posts, and any promotions I'm running, please follow via Google Friend Connect (in the bar to the right).
---

This linky list is now closed.