I confess. I was having too much fun on Pinterest last night to get this post up. And for that you have my deepest and most sincere apologies.
Do you Pinterest?

If not, it's a wonderful group of ideas. I find it far more intriguing than just about anything else online these days. And I "get" it. I've never really "gotten" Twitter. I have a twitter, but automatically posting my blog posts is about as far as my tweeting goes. I find meaning in all the fun crafty ideas, beautiful photos, great food.... you name it!
My other fantastic discovery this week is Yogurt Lounge! I learned that this is a different company than YogurtLand, but suffice it to say, I'm very likely in love with both. If you haven't been, do you remember how TCBY was super awesome because they had flavored yogurts with toppings?
The new thing in Yogurt is DIY. Great business concept -- let the customers do your work for you so you can minimize staffing costs... but seriously. SO AWESOME! There are about 12-16 different yogurt flavors and you serve yourself, combining any flavors you want, adding your own toppings and then you pay by weight at the end. Last night we went out for a treat and I had peppermint stick and mint chocolate with just a dollop of coconut yogurt on top. YUM!
"To find joy in another's joy, that is the secret of happiness." ~George Bernanos~
Wishing you all a wonderful December weekend!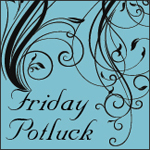 Just a few quick and easy rules for joining the party (please read them before posting)
1. Link directly to your recipe (not your main blog).
2. Only one recipe per blog each week.
3. Be sure, in the linked blog post, to link back here to Friday Potluck @ EKat's Kitchen.
4. Have fun, do some visiting and enjoy!

If you want to get updates on my posts, and any promotions I'm running, please follow using one of the options in the right hand side bar.
---

This linky list is now closed.