Happy Friday Potlucking to you!
I write you from the frigid north. You know you live in a cold place, when...
...15 degrees sounds like a great dream
...you hope it warms up enough to snow
...you wouldn't even mind another foot or so of snow because it's at least warm enough to go do stuff.
Ok, maybe I'm over dramatizing just a bit, but I would be ok with it warming up just a bit.
Can't wait to see what you bring this week!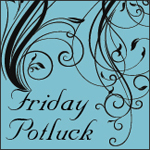 Just a few quick and easy rules for joining the party (please read them before posting)
1. Link directly to your recipe (not your main blog).
2. Only one recipe per blog each week.
3. Be sure,
in the linked blog post
, to link back here to Friday Potluck @ EKat's Kitchen.
4. Have fun, do some visiting and enjoy!
If you want to get updates on my posts, and any promotions I'm running, especially with Google Friend Connect going the way of the dodo bird, please follow me either
via email
or using
my RSS feed
.
---

This linky list is now closed.