Happy Friday!
I was so relaxed that I forgot it was Thursday! How does that even happen?? I had every intent of posting last night after I made this delicious yellow curry. Guess I was too relaxed from my fabulous massage yesterday. These things happen.
Guess what! I didn't post until
This Very Minute
.
So today, a little late, I bring you Thai Yellow Curry & Friday Potluck.
You may or may not know that I have a love affair with Thai food. Particularly green curry. I've never had much success though with replicating the dishes. I wish I could tell you where I picked up a delightful little can of yellow curry paste. It's a mystery to me, and I plan to take photographic evidence with me to our specialty grocery store in the hopes that I bought it there rather than at Whole Foods when we lived in the Lower 48.
As I work on eating clean, Thai food is particularly wonderful to me -- no dairy, no processed foods (except for the curry paste if you buy it and don't make your own), and lots of whole real food ingredients. Ever since last fall when
Full Circle Farms
gave me several weeks of their produce boxes to try, I've been hooked on their small Seed size box, and look forward to it's delivery to my door step every Wednesday evening. Whole real foods that are organic and GMO-free have become increasingly important to me. Full Circle has brought me a plethora of potatoes. (I plan to make a spinach frittata with them tomorrow). With potato supplies burgeoning out of my pantry, it was time to make a curry that made use of some of them, and I just happened to find this yellow curry in my cupboard as well. A match made in heaven... after scouring the internet for some fabulous ideas. In the end, my yellow curry was a roaring success!
Thai Yellow Curry
1 small can (3 tbsp) yellow curry paste (I have no idea how to make)
1 tbsp peanut oil
1 can coconut cream
1 lb of chicken breast, cut into bite sized pieces
2 cups coconut milk (I used Silk brand)
2 potatoes, peeled and cut into bite sized pieces
1 large onion, halved and quartered
Heat peanut oil in a large pan and add curry paste to it. Cook until the paste starts to toast and smell delightful. Add in the coconut cream and cook for a few minutes, until the colors start to separate. Then toss in the chicken and the coconut milk... and simmer for about 15 minutes before adding the potatoes and simmering for another 15 minutes or until soft. Finally add in the onion and cook until softened.
Serve over brown rice.
Enjoy!! With that, I bring you Friday Potluck!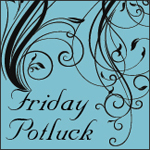 Just a few quick and easy rules for joining the party (please read them before posting)
1. Link directly to your recipe (not your main blog).
2. Only one recipe per blog each week.
3. Be sure,
in the linked blog post
, to link back here to Friday Potluck @ EKat's Kitchen.
4. Have fun, do some visiting and enjoy!
If you want to get updates on my posts, and any promotions I'm running, especially with Google Friend Connect going the way of the dodo bird, please follow me either
via email
or using
my RSS feed
.
---

This linky list is now closed.