Good morning!
Friday Potluck is a little late today, due to, er, technical difficulties! Actually, somewhere this week, I lost a day, and forgot to post. The brain really is just a big computer, right? See? Technical difficulties.
And onwards!!!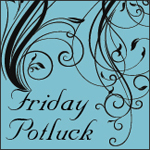 Just a few quick and easy rules for joining the party (please read them before posting)
1. Link directly to your recipe (not your main blog).
2. Only one recipe per blog each week.
3. Be sure, in the linked blog post, to link back here to Friday Potluck @ EKat's Kitchen using the button above or text.
4. Have fun, do some visiting and enjoy!
If you want to get updates on my posts, and any promotions I'm running, please follow via Google Friend Connect (in the bar to the right).
---

This linky list is now closed.