There are some benefits to just having me and the fur babies in the house. If it's a mess, it's our mess. The grocery bill is MUCH lower than when K is home.
The bad things are that I have to shovel, keep his truck running (more of a challenge mentally and literally when it's 20 below than you might think), and WORST OF ALL, I am responsible for consuming ALL leftovers. I'm good at eating the same thing two nights in a row, and maybe a lunch.
Beyond that, I can't do it... but I always seem to convince myself that it's doable and by the time I realize it isn't, I have a collection of science experiments (and really cool colors) in tupperware in my fridge.
Whoops.
That's my attempt at saying I'm not really bringing much to Friday Potluck. I made adobo lime chicken tacos this week, and just finished night #3 of them. They were amazing all three nights, especially since they are SO easy. With my pumped up work out schedule, I find that I want to go to bed much earlier, but still need to make sure I get enough protein ... and calories in general.
Adobo Lime Chicken Tacos
1 lb chicken, cubed into small 1/2" pieces
1 tbsp adobo lime rub
tortillas (I use the cook-your-own variety from Costco)
tomatoes, diced
cheddar cheese, shredded
lettuce, shredded
taco sauce to taste.
Heat a pan and toss the chicken in, sprinkling liberally with the rub. Cook until done, in the meantime prepping the other ingredients. Assemble tacos. Eat!
Store the ingredients in small bowls so that you can easily repeat. I don't have pictures, but I can tell you they are delicious!
HAPPY FRIDAY POTLUCKING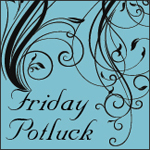 Just a few quick and easy rules for joining the party (please read them before posting)
1. Link directly to your recipe (not your main blog).
2. Only one recipe per blog each week.
3. Be sure,
in the linked blog post
, to link back here to Friday Potluck @ EKat's Kitchen.
4. Have fun, do some visiting and enjoy!
If you want to get updates on my posts, and any promotions I'm running, especially with Google Friend Connect going the way of the dodo bird, please follow me either
via email
or using
my RSS feed
.
---

This linky list is now closed.