It's time for FRIDAY POTLUCK again!
Sometimes, as I type my Friday Potluck introduction, it feels like I'm on a game show... "
and heeeeeeeeere's Alex!"
Except that my name is Erin. Sometimes I feel like it's a monologue, but I doubt most of you are as regaled by tales of my own life as I am. I find myself fascinating... which may be a little frightening, but at least I find myself in good company!
I love Fridays. Right now I am at home most Fridays... I get to see new recipes pop up on the Friday Potluck linky... my husband is typically home early... and well, it's Friday, what's not to love!
This Friday, I'd like to highlight a few very important things.
Very important thing #1:
I'm hosting a giveaway this week and next!
The giveaway will be running until midnight on March 14! Click the image to enter!
Very important thing #2:
I really truly love reading everyone's posts.
I do everything I can do to visit each and every one of your posts! Keep the recipes and links coming!
Very important thing #3:
Friday Potluck Highlights
Here are a few posts from last week that jumped out at me as VERY IMPORTANT. I'll let you visit each of them to find out why for yourselves -- though my guess is between the titles and the pictures,
you'll be drooling as much as I was
you'll completely understand!
Bacon-Peanut Truffles
from Kimmy's Kitchen
Paradise Shrimp over Jasmine Rice
by The Saturday Evening Pot
Mushroom Noodle
by Sunshine & Smile
Without further ado, I give you Friday Potluck!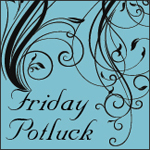 The rules:
1. Please link directly to your recipe (not your main blog).
2. Please only one recipe per blog.
3. Be sure, in the linked blog post, to link back here to Friday Potluck @ EKat's Kitchen using the button above or text.
4. Have fun, do some visiting and enjoy!
Friday Potluck is open for linking up Thursdays at 10pm Alaska time until Sundays at midnight!
---
This linky list is now closed.