What a wild ride it's been!
There has been so much going on in my life the last few weeks, months, you name it! I'm not sure where the time has gone. Suddenly, it's 2012!
2012?!?!?! How did this happen?
Actually, I've got a pretty good idea where the time has gone.
my back deck
This is a year of near record snowfall in Anchorage. Before the latest round of storms, I think we stood at almost 82" of snow. Today, we got at least another 8, and it's still falling.
I'm getting really good at shoveling. I'm blessed with neighbors that help shovel the driveway, and I have been keeping up with the back deck... It's getting hard to shovel UP though!!!
Nothing like a snowy day to make you appreciate a lovely soup.
THAI LEMONGRASS CHICKEN CURRY
1 lb chicken breast, cut into bite-sized pieces
1-2 tbsp Thai green curry powder
2 cups chicken broth
1 can light coconut milk
4 green onions, diced
3 stalks lemongrass, tough outer leaves removed and pale stalk diced
Heat empty pan on medium heat until hot to touch. Toss chicken into the pan, and cover with curry powder. Saute until cooked all the way through. Toss in some chicken broth (I make mine using water and Better than Bouillon) to deglaze the pan. Allow to simmer for a few minutes and then add in the coconut milk, green onions and lemongrass. Cover and simmer for another 20 minutes to allow the flavors to marry.
Serve over brown rice and enjoy the yummy-ness.
And now onto the first Friday Potluck of 2012! Enjoy!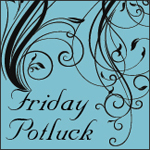 Just a few quick and easy rules for joining the party (please read them before posting)
1. Link directly to your recipe (not your main blog).
2. Only one recipe per blog each week.
3. Be sure,
in the linked blog post
, to link back here to Friday Potluck @ EKat's Kitchen.
4. Have fun, do some visiting and enjoy!
If you want to get updates on my posts, and any promotions I'm running, especially with Google Friend Connect going the way of the dodo bird, please follow me either
via email
or using
my RSS feed
.
---

This linky list is now closed.