Welcome to Friday Potluck #15!
and a very Merry Christmas
to those of you celebrating this lovely holiday!
Though I don't know how many Friday Potluck entries we'll have this week, I do look forward to seeing what everyone posts. As the holiday falls right on Friday, Friday Potluck opens on Tuesday the 21st and will continue through the 27st (I also bid you happy Winter Solstice!)
I've pre-scheduled this post, and will be wishing you a lovely holiday from the Alaska Marine Highway System -- our ferry departs exactly on December 24th. All a part of the adventure! :)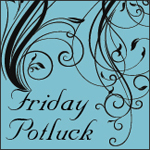 The Rules:
1. Add the button above or a link back to this post/my blog in your own fabulous blog post.
2. Join the Party!!
3. Leave me a note to let me know you've entered.
4. Visit some of your fellow potluckers' posts to get inspired!
*note -- if you forget to link back or add a button, you'll receive a gentle friendly reminder to add it in :)
AND, if you want to join in
Friday-Potluck Daily
, please let me know your Twitter handle. I'll follow you (you can follow me @ekatskitchen). To subscribe to the paper
click here
and then click subscribe!
---
This linky list is now closed.