Welcome to Friday Potluck #18!!!
Welcome, also, to
2011
!!!

Every year, my parents host a party called "Four Minutes More" that celebrates reaching a gain of four minutes a day of daylight. It sounds weird, but wait till you spend a winter in Alaska. Four minutes more is everything. EVERYTHING! This weekend is four minutes more... and therefore it's a party!
As it's also Friday, well, when in Rome... this Friday Potluck is in honor of four minutes more of AK daylight!!!
Highlights from Potluck #17 last week!
Garlic Fries
by Pam @
From Apples to Zucchini
Two words: Yummy, Amazing! I love every recipe of Pam's that I find!!!
Crunchy Potato Bites
by Cat @
Cookin' With Cat
I love potato bites, and I love that Cat brought them to the Potluck!
White Wine and Tomato Braised Chicken
by Michele @
Fit Foodista
I love all of Michele's recipes, and love that she cooks with wine. This looks soooo tasty! :)
Spiked Eggnog
by Miranda @
Mangoes and Chutney
This looks fantastic! What a great way to bring in the new year, and YUM! Small wonder as to why this made highlights :)
by
Easy to be Gluten Free
This is such a tasty looking treat! I want to try these soon!
On to this week's potluck!! Happy four minutes more to you all! :)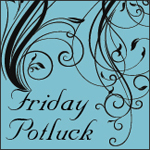 The Rules:

1. Add the button above or a link back to this post/my blog in your own fabulous blog post.
2. Join the Party!!
3. Leave me a note to let me know you've entered.
4. Visit some of your fellow potluckers' posts to get inspired!

*note -- if you forget to link back or add a button, you'll receive a gentle friendly reminder to add it in :)
AND, if you want to join in
Friday-Potluck Daily
, please let me know your Twitter handle. I'll follow you (you can follow me @ekatskitchen). To subscribe to the paper
click here
and then click subscribe!
---
This linky list is now closed.