If you didn't know that I was back Stateside or didn't deduce it from my return to posting, I have some very exciting news for you: I'm home!
I'm still in the process of sorting through all of my photos, and, I still need to look through my mother's journal for stories and most importantly, the list of everything that we did each day. She was the good traveler and kept a journal. We were busy busy busy from early in the morning till night most days. I'm really grateful for the tour, through which we saw much more than we would have as independents... and were treated like VIPs. Man, we hit a LOT of places though!
There is a downside of a month of VIP treatment, front row seats at performances, and unique experiences not afforded to most travelers in China -- expecting it all the time now. Sadly I have to resort myself to being a normal human being once again, and like the readjustment of my sleep schedule, this is not going as smoothly as it should. Whoops. :)
Because I'm still sorting through my photos, and, because I have to get my other photo card from my mother (along with a few fantastic purchases and photos that are on her camera), I'll just treat you to a few highlights here -- namely a photo each from the Great Wall, Angkor Wat, and Bayon @ Angkor Thom.
The last night of official travel (not counting plane travel) was in Siem Reap, Cambodia. This was the first time we did the "typical touristy thing" by eating in a tourist restaurant, doing nothing but shopping, having cocktails, and experiencing Dr. Fish. (more on this and my experience with Chinese medicine in a later post) I'm sure you're asking - "you traveled for a month, weren't you doing the typical touristy thing the whole time?" The answer is yes, but... this was the first night we were really let loose on our own! Why am I telling you about this last night? Well, we dined in the famous Red Piano restaurant, frequented by Angelina Jolie while filming Tomb Raider... and experienced the Tomb Raider cocktail, a favorite of Ms. Jolie. I'll let you look forward to the post in which I serve this delectable drink!
Before I deliver you a new Friday Potluck, I'd first like to share with you a few photos:
Angkor Wat, Siem Reap, Cambodia
Bayon "Temple of the Faces" - Angkor Thom, Siem Reap, Cambodia
The Great Wall of China - The Wild Wall @ Badaling (outside of Beijing)
Ta Prohm "The Jungle Temple" (where Tomb Raider was filmed), Siem Reap, Cambodia -- I now feel the urge to watch Tomb Raider for the first time, and have it set to DVR.
The food? I know that's what you're all wondering about. The food was great, though after 2-3 meals a day for 20 days featuring Chinese food, I have no desire to eat Chinese again for the foreseeable future... at least a few months. However, the Cambodian food was beyond spectacular... I have a new cookbook that I will share recipes from occasionally... once I go grocery shopping - hubby predictably left me with only pasta, ground beef, and cheddar cheese in the house. :)
And with little further ado, I give you Friday Potluck. Before posting though, I'd love to thank the lovely Heather over at Girlichef for her help in hosting while I was traveling.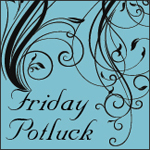 Just a few quick and easy rules for joining the party:
1. Link directly to your recipe (not your main blog).
2.
Only one recipe per blog each week.
3. Be sure, in the linked blog post, to link back here to Friday Potluck @ EKat's Kitchen using the button above or text.
4. Have fun, do some visiting and enjoy!
---

This linky list is now closed.