I greet you, this fine Friday Potluck, from beautiful Milwaukee, Wisconsin, where my company's Board meeting is being hosted.
I'm also spending time with my fabulous in laws, while Mr. Amazing is sweating down in the jungle of Central Louisiana. I think that I have the better end of the deal somehow.
So no fabulous story right now, just a shout out to all my Wisconsin peeps... and while I'm at it, all of my peeps in the world!
Hope your week went well. I can't wait to get home and see what your fabulous additions to this weeks' Friday Potluck will be.
XOXO,
Erin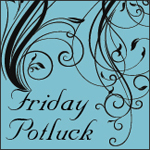 Just a few quick and easy rules for joining the party:
1. Link directly to your recipe (not your main blog).
2. Only one recipe per blog each week.
3. Be sure, in the linked blog post, to link back here to Friday Potluck @ EKat's Kitchen using the button above or text.
4. Have fun, do some visiting and enjoy!
---

This linky list is now closed.