Holy cow! How is it October already?? Time is flying away. Why is it that when you can't wait for something to happen, time passes by the second and when you have so much to do before a certain date, time passes in leaps and bounds... and weeks?
Happy Friday Potluck!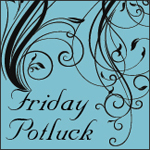 Blog land is filled with great fall foods and crafts and I'm really enjoying reading about everyone's adventures! I can't wait to head into the mountains to see the aspen leaves changing color.
However, because I'm not aware of any great recipes using changing leaves, I'm bringing some amazing nachos to the potluck this week. Not particularly inspired, but they are oh so good.
Check out the elevation on these - near volcanic proportions.
I brought these Mt. Vesuvius Nachos to a friend's house this past week. They invited us for wings, and we wanted to bring something. I was planning to make queso, but then felt bad because I've been making and writing about all these great foods, and couldn't do just queso.
K piped up "Let's do nachos!"
And commenced cooking a pound of ground beef.
I recommend using a dish significantly larger than a 9" casserole. I'm just saying.
1 bag of chips
1 pound ground beef
1 can black beans, no salt added
3 cups shredded cheese
3 jalapenos diced
2 jalapenos sliced in disks
3 green onions, diced
1.5 cups salsa,
mine
or yours
1 packet taco seasoning
1.5 cups cubed velveeta
sour cream
Preheat oven to 350.
Brown the meat, adding in the 3 diced jalapenos, the green onions, taco seasoning and half the can of beans.
Meanwhile, melt the velveeta in a small saucepan, adding a teaspoon of olive oil to keep it from sticking. Once mostly melted, add in 1/2 cup salsa.
Layer chips in your dish and spoon on some of the meat mixture and top with queso and some shredded cheese. Continue layering until you run out of meat (this could be a LOT of layers depending on dish size).
Good thing it's a Potluck!!
Here are the instructions for joining the party:
1. Enter your post using the link to enter here below.
This post must be published on your blog before you join the potluck.
2. Link back to this blog,
EKat's Kitchen
using the button on the right of the page or a link, and visit your fellow potluckers' pages and leave them a comment.

3. Leave me a comment and let me know what you think about my potluck party.
Party on!
Also, in addition to my Friday Potluck, this week I'm linking to these parties:
---
This linky list is now closed.