I haven't been cooking very much over the past few weeks. There are many reasons:
1. exhaustion
2. grocerystoraphobia (perhaps not truely certifiable, but I'm a firm believer in making up words)
3. lots of leftovers
As such, I haven't been posting a lot. At least not much about food. I've been tempted to write about
1. things that are bugging me (the hoops to jump through for the move back to Alaska)
2. things that are frightening me (the logistics of a winter move back to Alaska)
3. things I'm excited about (a move back to Alaska)
However, I've spared you. Sort of. At least the details.
Rest assured, I've done some fantastic cooking tonight. See, no reason to worry.
You'd love it if you were here.
Or if there were leftovers.
Whoops. Sorry, no leftovers. Well, there are, but there won't be tomorrow after lunch.
1 lb ground buffalo
3 tsp garlic powder
1 tbsp onion powder
2 tsp Lawry's seasoning salt
8 small slices of brie
2 tsp rosemary-garlic rub, divided into 1/2 teaspoons
4 button mushrooms, halved and sliced
1/4 onion, diced
2 tbsp red wine
Mix thawed buffalo with garlic powder, onion powder and seasoning salt. Divide into eight patties of equal size.
Cover the center of four with the brie slices, and add 1/2 tsp rosemary to the brie. Place the non-brie covered patties on top of the brie-covered patties, seal around the cheese, and grill.
K is in charge of grilling in our house -- the self proclaimed griller man. I'm happy to let him. I learned how to use the grill while he was deployed, but I'm much more at home in the kitchen. Especially when we move to Alaska in December and double especially if we're in Fairbanks.
While the patties are grilling, saute mushrooms and onions in red wine.
Spread some additional brie on the buns and garnish with lettuce, tomatoes and sauteed mushrooms and onions.
Most importantly enjoy.
Makes 4 burgers!
1/2 butternut squash, peeled, cubed
1/4 milk
1 tbsp butter
3 tbsp brown sugar
Boil the butternut squash until soft. Add milk, butter, and sugar. Puree with hand mixer or immersion blender.
Serve.
Now you know what I'm bringing to the Friday Potluck, but what are you bringing?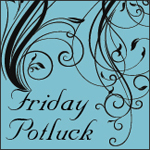 I'll be posting Friday Potluck at midnight tonight for all you night owls, and plan to showcase some of my favorite posts from last week! This will be my new Friday Potluck tradition! I look forward to seeing everyone's recipes!
I'm also linking up to