I have a whole page dedicated to meal planning, and, I suppose it's advice I ought to follow. Lately, we've just considered it good if we have a game plan before dinner time. Knowing that we're moving in about a month though, we're working hard to get through the food we have in the cabinet and freezer.
Case in point.
What I didn't mention is that they are FREAKING wonderful! :)
Impromtu Buffalo-Chili Chicken Tacos
1 lb chicken breast
1 tbsp Franks
1 tbsp Taco Bell sauce
2 tsp Cajun Pasta Spice (
Double Musky
recipe)
1 tsp our chili powder
1 tsp garlic
1 tbsp Braggs
Shred the chicken and start to cook in a lightly sprayed pan. Add seasonings and sauces and cook until done.
To complete the tacos:
hard corn taco shells
shredded cheddar cheese
shredded lettuce
sour cream
Set the goodies out, build your own tacos... and DIG IN!
Yummers.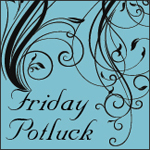 I'm linking this post to my very own Friday Potluck, because what better to bring to a potluck than make your own tacos.